The students are back! I live near my alma mater Michigan State University and you can always tell when the massive influx of students hits town. The stores, the roads, the sidewalks are all teeming with them. It always brings back memories of moving into Gilchrist Hall my freshman year, the excitement and nervousness. You may have heard me mention once or twice how I wished I knew about mug recipes (recipes made in a mug in the microwave) when I was in college. So in honor of the students being back, here are three easy breakfasts that you can make in the microwave of your dorm room (not to mention links to numerous mug desserts!).
1. French Toast in a Mug
Ingredients:
2 slices of bread, torn into bite-size pieces
1 egg white
1 1/2 tablespoon milk
1-2 drops of vanilla extract
cinnamon, to taste (I probably use about a tablespoon but I love cinnamon!)
cooking spray
maple syrup, optional
Directions:
Spray the inside of a coffee mug with cooking spray. Add bread to the mug. You'll have to mash it down a little. In a small bowl, combine egg whites, milk, vanilla, and cinnamon. Pour over the bread. Let the mug sit for about a minute so the egg mixture and sink down and absorb into the bread.
Microwave for about 1 minute 20 seconds on high. However, all microwaves cook different. Start at 1 minute and progressively add 10 seconds until cooked. Add syrup if desired. Allow to cool before eating (I burnt my tongue because I was too impatient).
2. Quiche in a Mug
Ingredients:
2 eggs
1 1/2 tablespoons milk
salt, to taste
pepper, to taste
cooking spray
cheese, optional
onions, optional
peppers, optional
ham, optional
Directions:
Spray the inside of the mug with the cooking spray. Scrabble the eggs and milk in the mug. Salt and pepper to taste. Add whatever other ingredients you'd like. Thyme, oregano, basil, rosemary . . . I always add cheese--cheddar being my favorite. If you have some green onions or peppers lying around, dice them and toss them in. Or if you have any leftover ham, sausage, or chicken, add it too. Just make sure it's all precooked. I love using quiches as a way to recycle leftovers into a new dish. They're also fun to experiment with.
Microwave on high for approximately 1 minute 20 seconds. All microwaves cook differently so you may need to cook it a little longer or a little shorter. I recommend starting with 1 minute and go up by 10 seconds from there.
3. Banana Bread in a Mug
Ingredients:
Cooking spray
3 tablespoons flour
1 tablespoon + 1 teaspoon granulated sugar
2 tablespoons brown sugar
1/8 teaspoon salt
1/8 teaspoon baking powder
1/8 teaspoon baking soda
1 egg
1/4 teaspoon vanilla extract
1 tablespoon milk
1 ripe banana, mushed
2 tablespoon chocolate chips
Directions:
You will need a large, oversized mug for this recipe. Spray it with cooking spray. In the mug combine the flour, white sugar, brown sugar, salt, baking powder, and baking soda . Add egg and mix well. Add vanilla, milk, and banana; combine well. Fold in chocolate chips.*
Microwave for three minutes. (Almost immediately it smells just like banana bread baking in the oven). Your mug is going to be very hot so make either let it cool in the microwave or be very careful when taking it out. Allow bread to cool before devouring.
*The chocolate chips kind of sink to the bottom of the banana bread. I don't mind this. It's kind of like a special treat at the bottom of the dessert, but fair warning.
Enjoy!
~Krissy
Check out these Mug Desserts:
3-Ingredient Gluten-Free Mug Cake
Chocolate Chip Cookie in a Mug!
Chocolate Chip Cookie Dough Mug Cake
Chocolate-Hazelnut Mug Cake
Chocolate Peanut Butter Mug Cake
Fluffernutter Mug Cake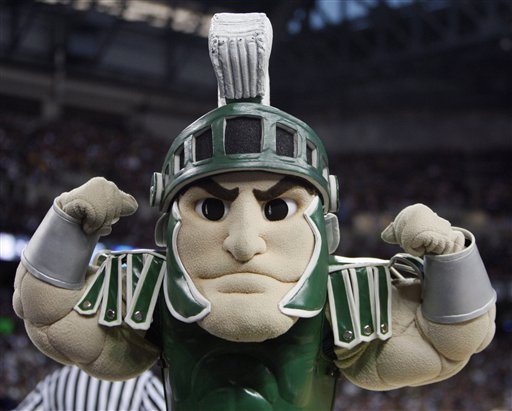 Go State!